Setting up Zoiper VoIP softphone with Aussie Broadband NBN
15 June 2020

Our NBN Service Provider
Finally NBN has arrived at our suburb in Sydney! We have chosen Aussie Broadband as the provider and this is after many years with TPG on their ADSL2 service. We wanted to ditch TPG as recently we were shocked about the level of customer service provided by TPG offshore call centre. They were a joke at best - their so called chat support would literally took many many mins before they responded to what you typed!
Hardware and Software options with VoIP service
As you probably all know, the phone service over NBN is provided through VoIP. There are a number of options for you to consider when deploying your own VoIP solution.
Firstly, you can buy a router like the TP-Link VR600v that has a built in VoIP port that let you plug in your analogue telephone handset. Unfortunately, all of those routers with built in VoIP are mostly light duties routers and you will find most of them wanting in a more challenging environment ie. an environment that have more than a dozen of wireless devices or you want to have much faster wifi speeds.
Next, you can buy an ATA - Analogue Telephone Adapter like the Cisco SPA112 or Grandstream HT812 unit to plug into your router and then you can plug your analogue telephone into the ATA. In fact, Aussie Broadband recommends the HT812 unit. For us, it is not a good long term solution as our analogue cordless phone is pretty old and we will have to replace that soon!
Next, you can buy an IP handset like the Grandstream GXP162 . This will allow you to plug your IP Handset directly into your router. What deterred me from going down that route is Aussie Broadband technical support cannot confirm if this IP phone will work, all they can say is Let's try it. So I thought if I am going to try it, I would rather try the next option.
Finally, you can use a soft IP phone like Zoiper through your smart phone or laptop or desktop computer. This is the route we have gone down as we really dont want to have another piece of gadget hanging around the house when we can just use our laptop and smartphones. Also the occassion which we will use a landline is pretty limited .. we only use it to call international when our recipient dont have whatsapp etc.
Also after trying out the Zoiper, I am sure IP Handset like the Grandstream will work as I can only imagine they have the same set up like Zoiper .. but no guarantee here as even Aussie BB cannot guarantee it. Comon.. Aussie Broadband .. if you are reading this, do your customers a favour, just go down to the shop and buy one and if it works, list it on your website!!!
How to set up your soft phone with Aussie Broadband NBN service
It is real easy and doesnt cost you a cent with Zoiper! Once your NBN service is active, Aussie Broadband will let you know your VoIP service user name and password on your sign in. And their domain for VoIP service is AussieBB.nms1.voice.wide.net.au. They have listed the port to be used as 5600 but I dont think we even need that.
Zoiper set up guide for laptop
You can go to Zoiper.com to download their latest software for your device. If you only set up one SIP account, it is free. When you are adding the SIP account, you will need to enter your VoIP user name, password and the domain name for AussieBB VoIP server.
Here is a print screen for how the setup screen will look on Mac OSX. Once you have entered all information, click the Register button and you should be able to see on the sidebar next to your account there is a green tick. Then you are done and you can start receiving and making calls on your laptop.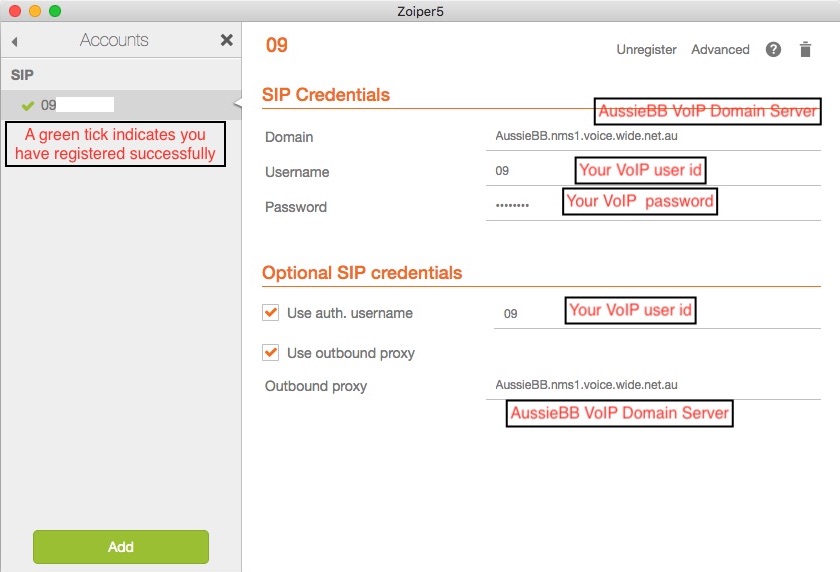 On an iphone, the setup is very similar. Download the Zoiper app from App Store and then add an account using your credentials from before. Here is how the set up screen looks on an iphone.