Gensafe (Sydney Tools) GHS2000i Inverter Generator review
6 April 2020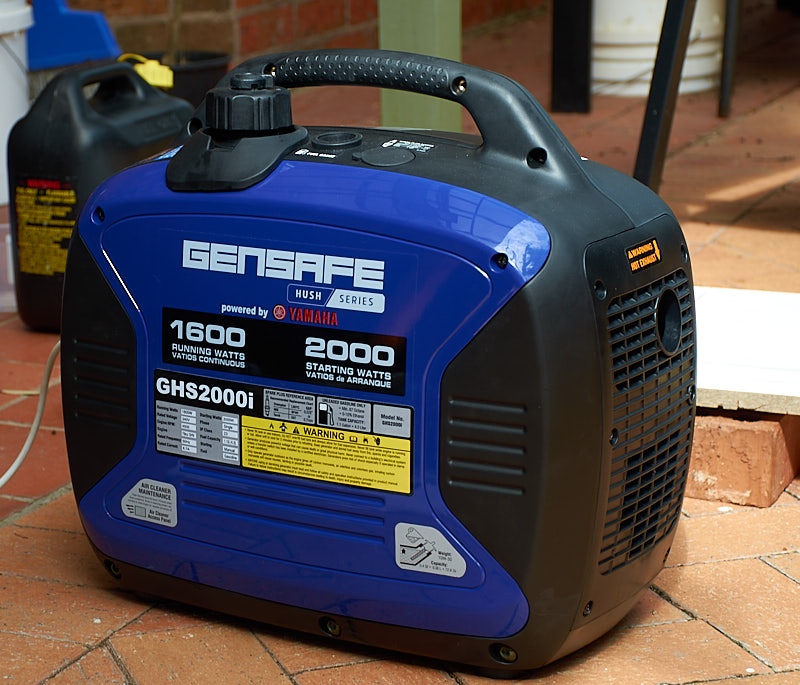 Why We want a generator
We have always wanted the peace of mind of having a generator at home in case we have a blackout. Funny I said that as in the past 6 years in our house, we never have a blackout, so go figure why I wanted one! by the way, my drawers are full of all kind of gadgets that you cant even begin to imagine!
Why we decided on this generator
Firstly, we wanted the inverter generator - instead of the non-inverter generator. In simple terms, inverter generator has a lot more electronics inside to ensure that the output power is as perfect as possible and also ensure the engine only run as hard as it needs to. Generators are loud and you want to select the quietest possible if you are going to want to run it overnight in a quiet neighbourhood. Otherwise, your neighbour can shut you down by complaining to the police!
We also want a generator that is portable as in the future, we want to go camping or caravan with this. So that narrows down nicely to those generators called suitcase generators that weighted no more than approx 20KG.
With the above criteria, the choices pretty quickly narrowed down to either a 1000W or 2000W machine. As we want to use the machine during blackout to power a fridge and some other applicances like microwave ... 1000W would not be enough as most machines quoted peak power, the continuous power is sometimes only 80% of the quoted power. For example, the Gensafe is only good for 1600W Continuous Power despite being labelled as a 2000W (Peak Power) Machine.
2000W Suitcase inverter generator
There are 2 quality brands that nearly everyone gravitated towards. Honda (EU20i or EU22i) and Yamaha (EF2000is or EF2200is). But these machines are expensive. So when searching for the right machine to buy, Gensafe fits our requirment and budget and probably come in at 35% less than those branded models.
This generator is only sold through Sydney Tools and it has a Yamaha MZ80 engine which is the same engine that powered the Yamaha branded EF2000is. And Sydney Tools is offering a 5 Year Warranty for residential use.
Dont buy a secondhand generator
Generators are run by small petrol engine and unfortunately, buying second hand you would never understand how the machine was used. Did the previous owner changed the oil diligently? There is no hour meter on the machine, so you would never know how much work the machine has done? How was the machine broken in? These machines are not cheap and even second hand, the Hondas and Yamahas still retained as much value as a brand new Gensafe .. another reason why we gravitated towards the Gensafe.
Gensafe GHS2000i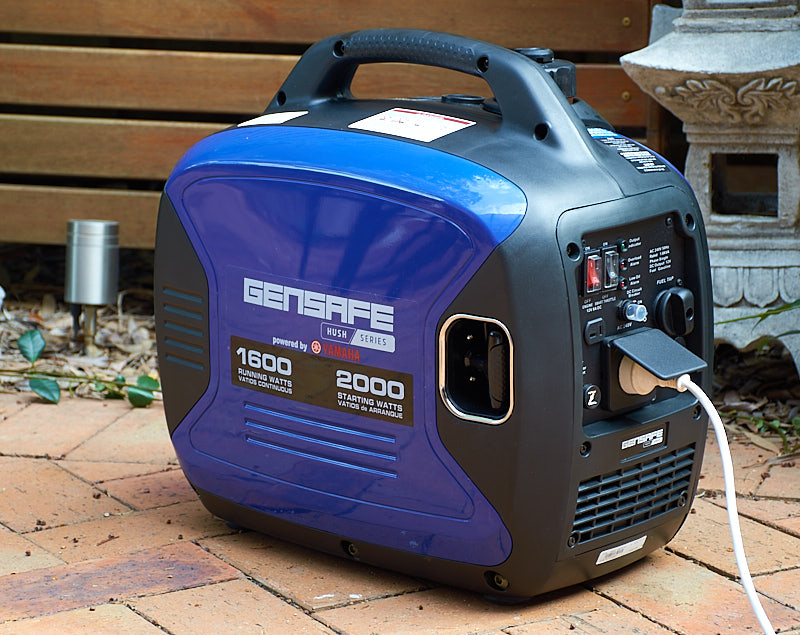 The features of this type of inverter generator are pretty much the same. They all have some kind of smart throttle that change the engine speed based on load. They all have 12V outlet - which I dont see much point as you can always plug in a quality charger at the power outlet.
One feature you should always look for is the fuel tap .. it is very important as it allows you to run the fuel out of the carburettor before you stored the machine .. unfortunately, the Honda has no such feature!
Here are some photos of the inside of the machine. The engine block is clearly stamped with Yamaha.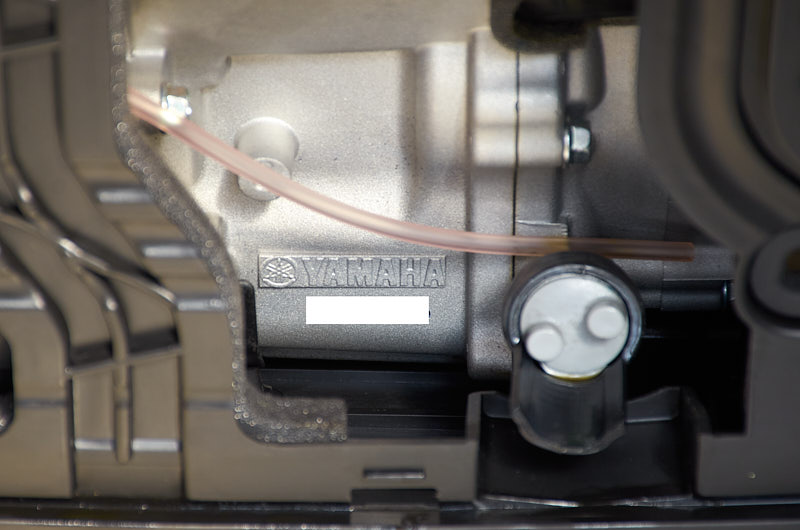 Interestingly, the manufacturer label on the machine is indicating this machine may be manufactured by Yamaha China. Even the model on the label is referred to as (Yamaha) EF2000is-v2. So my suspicion is that this is a Yamaha machine made in China with a private label. I dont know if they would reduce the cost by using some lower quality stuff in their inverter electronics or carburetor or exhaust or air intake. But the fact that this machine appears to be manufactured by Yamaha China is a bonus!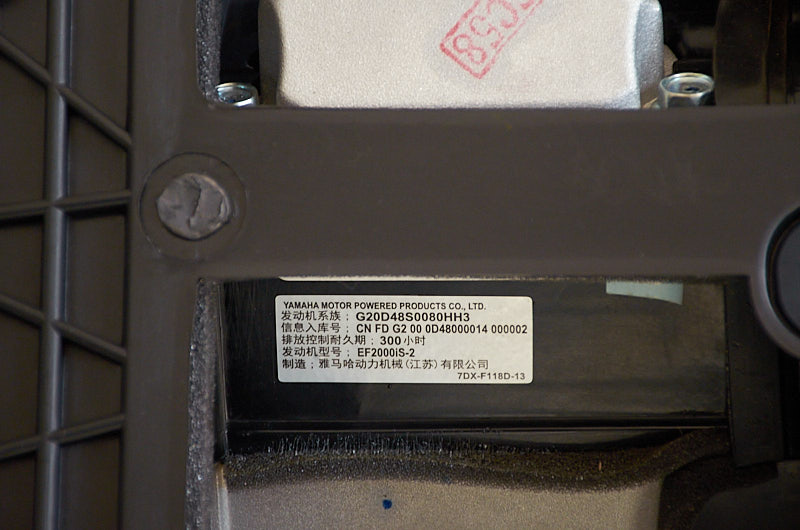 Break in your machine
Dont store your machine when you get home as you should break it in before you store it. That would ensure you have a machine that is ready to use in an emergency.
There are so many theories about how to break in a small engine out in the internet, I dont intend to cover all the options here. Unfortunately the user manual, either Yamaha or Gensafe, do not cover breakin at all. Here is what I had done.
Obviously before you even attempt to run the machine, put in the correct engine oil and I used this.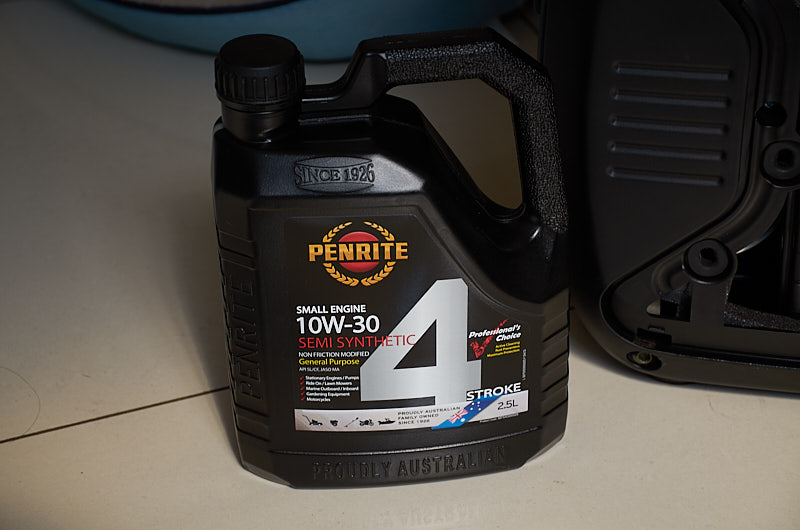 To me, there are always 2 important factors when running in an internal combustion engine. Firstly, put it under reasonable load (but not too much full load) so that the piston rings and cylinder bore can wear down to form the seal required to provide longevity - btw I have read some sites suggested you run the machine at idle (with no load attached) as part of the break in process - I couldnt disagree more and I would not recommend this. Secondly, vary the engine speed (ie varying the load for inverter generator with smart throttle - yes put your machine in smart throttle mode - very important!) during the break in process.
To achieve this, you should has some dummy loads that can vary from 1/4, 1/2, 3/4 to full loading of the machine. I let your creative mind to determine what to use. Items I used include rice cooker (haha!), angle grinder (my neighbour loves me!), lots of halogen light (dont even think about using LED light as you will need hundreds of those!) etc. From time to time during the break in process, removed all loads for a few seconds before you start again.
Also very important you change your oil at the end of the break in process. We run it for 2 hours and then change the oil at the end. The user manual advises first change of oil after 20 Hours of use and we will do that again when the time comes. Oil is pretty cheap (another tip, dont buy the tiny 1 Litre oil .. buy at least 2.5L as each change required 0.4L) and this early oil change would give your machine the best start in life.
Finally, let your machine run out of fuel by turning the fuel tap to OFF. This is important as it drains all the fuel out of the carburettor. Old fuel is bad for any engine, especially carburettor engine. Do this and you would never have any problem starting it next time.
Quality of output
I did hook up my oscilloscope to check the pure sine wave and yes they are pure! haha!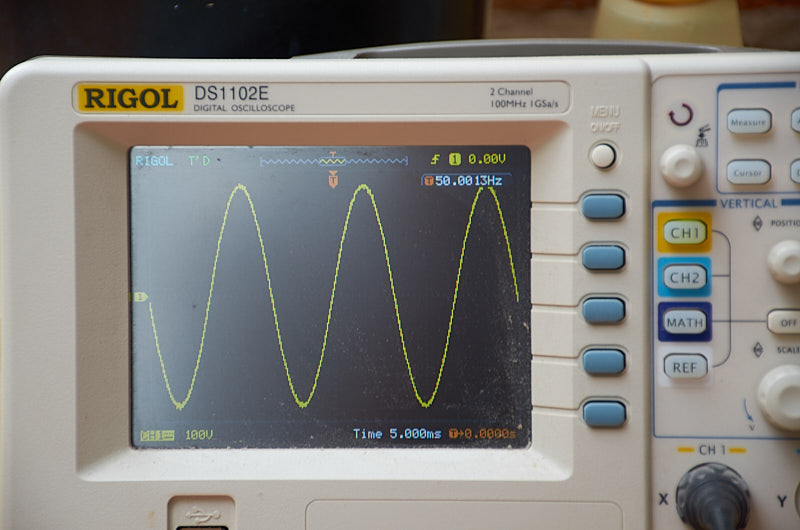 The voltage is a little higher than 240V but nothing to be too alarmed!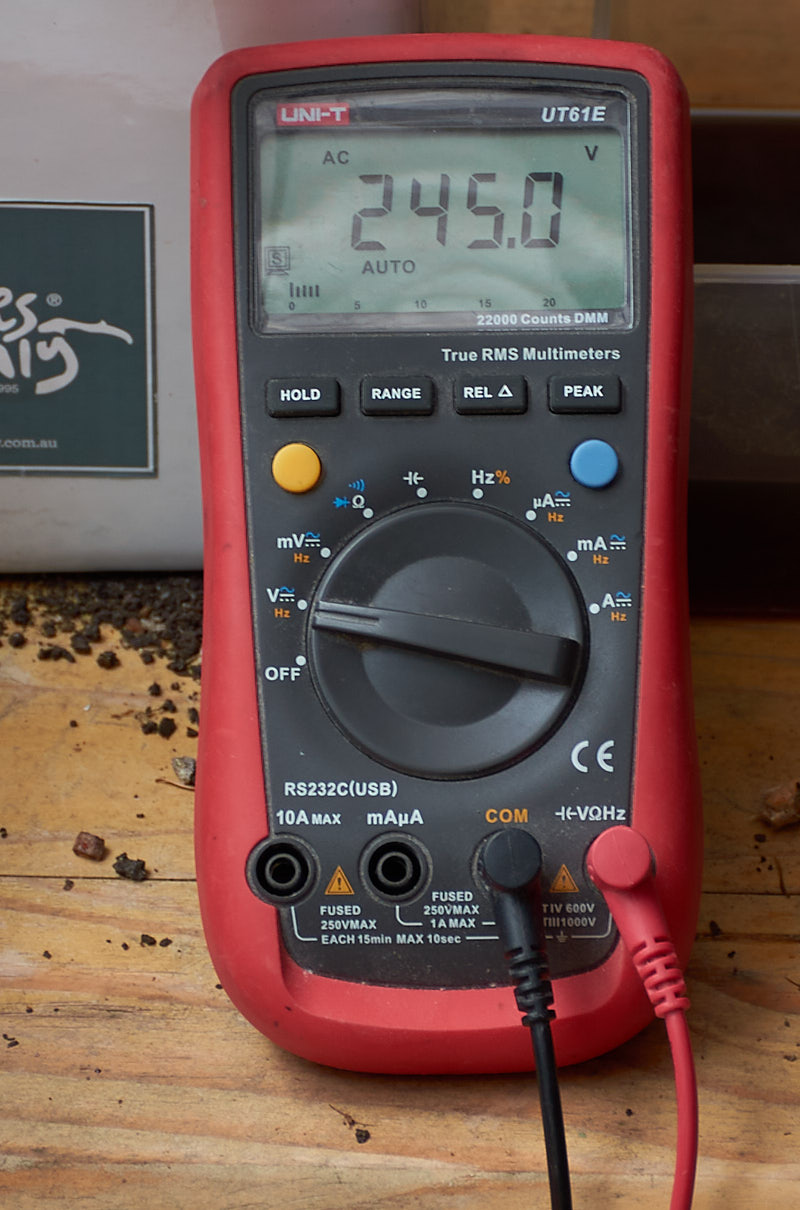 More testing to come
When I have time, which everyone have plenty at the moment !!!, I will use the generator to run some appliances and give more details about how the machine performed in real life!